Recepies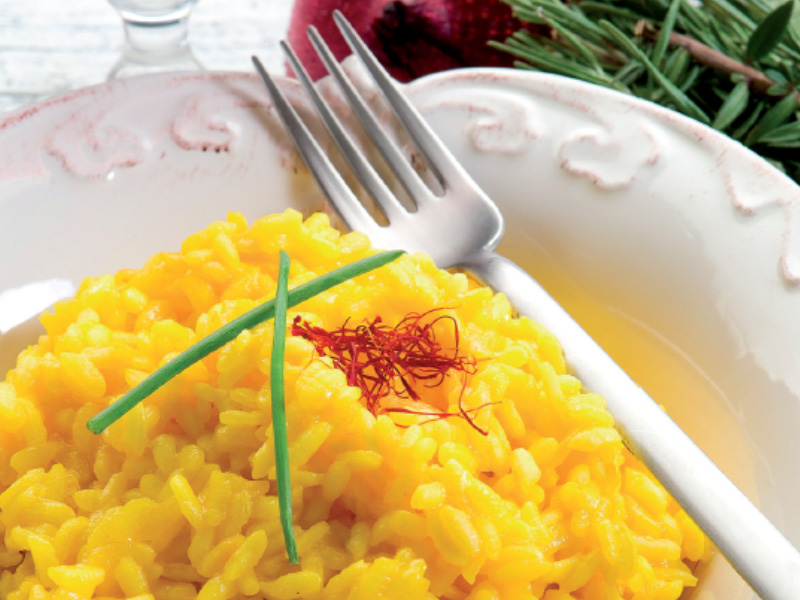 Saffron Rice
Ingredients
2 tablespoons butter
3/4 cup diced onion
1 cup long-grain, white rice
3 cups chicken stock
Pinch saffron threads
Salt and freshly ground black pepper
Preparation
In a large saucepan or pot, melt the butter over medium heat.
Add the onions while stirring in the rice to coat with the butter.
Pour in the chicken stock, saffron, salt and pepper.
Raise the heat to high and bring to a boil.
Cover, turn the heat to low and simmer for about 20 minutes. Remove the lid and fluff with a fork before serving.
Saffron Citrus Fish Kebabs
Ingredients
Juice of 1/2 orange (about 3 tablespoons)
Juice of 1/2 lemon (about 1 1/2 tablespoons)
2 tablespoons extra-virgin olive oil
2 cloves garlic, finely chopped
1 generous pinch saffron
Salt and freshly ground black pepper
Freshly ground black pepper and sea salt to taste
Preparation
Soak 6 bamboo skewers in water for 30 minutes. (Alternatively, you can use metal skewers, which do not require special preparation.)
Make the marinade: Whisk together the orange juice, lemon juice, olive oil, and garlic.
Crush the saffron threads between clean fingers and add to the marinade.
Season to taste with freshly ground black pepper and sea salt.
Pour the marinade into a 9-inch x 13-inch (or similarly sized) baking dish. Set aside.
Saffron Cardamom Lassi
Ingredients
200-250 milliliters yogurt
2 tablespoons powdered sugar
2-3 saffron threads
2 tablespoons hot water
2-3 cardamom pods
1 tablespoon shelled pistachios
Preparation
In a small bowl, crumble the saffron into 1 tablespoon of the water and let stand for 5 minutes.
Whisk together the yogurt, powdered sugar, crushed cardamom seeds and crushed pistachios in a large bowl. Stir in the saffron and water mix. Combine well.
Refrigerate, whisking a few times, until cold and brightly colored, about 1 hour. Pour into medium glasses and serve with some crushed pistachios on top.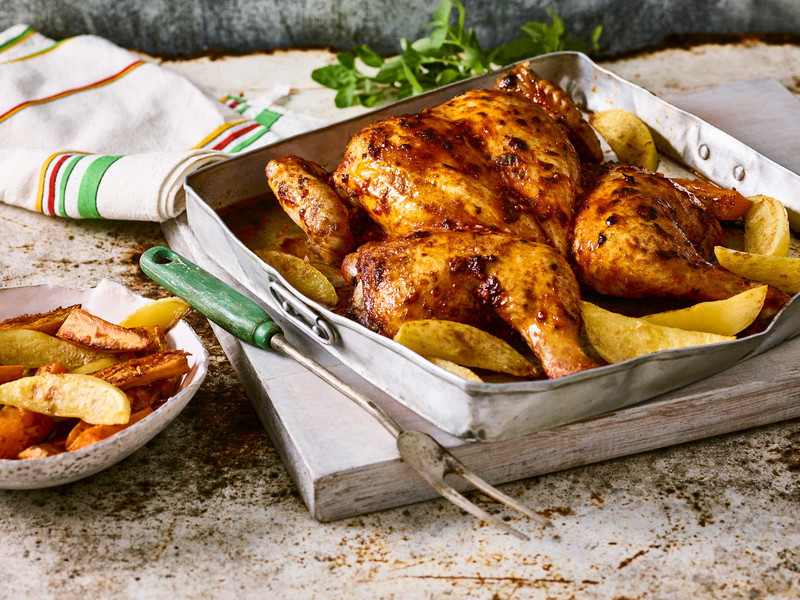 Saffron Chicken
Ingredients
1/2 teaspoon saffron
3 lbs chicken pieces
3 tablespoons ghee or 3 tablespoons butter or 3 tablespoons oil
1 large onion, julienned
2 teaspoons finely grated gingerroot
1 -3 fresh chili pepper, or to taste, red or green
2 -3 cloves garlic, crushed
1/2 teaspoon ground cardamom
1 1/2 teaspoons salt
Preparation
Toast the saffron strands in a dry pan over a medium heat for about 1 minute taking care not to burn them.
Cool, and then crush them with the back of a spoon.
Dissolve them in 1 tablespoon of very hot water.
Heat the ghee (or whatever you use), and gently fry the onion, garlic, ginger and chilli until the onion is soft and golden.
Add garlic.
Add the dissolved saffron to the pan with the cardamom, then add the chicken. Turn the chicken pieces in the mix, coating well.
Add the salt, cover and cook for 25 minutes until the chicken is tender.
Uncover the pan and continue cooking, turning often until the liquid is almost gone.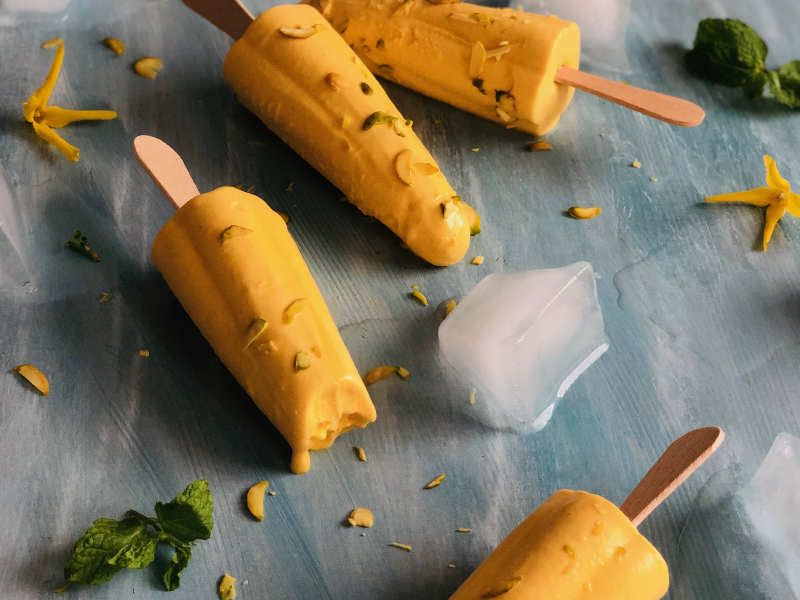 Indian Saffron Kulfi
Ingredients
1 tbs boiling water
Large pinch of saffron threads
1L (4 cups) evaporated milk
335g (1 1/2 cups) caster sugar
50g pistachio kernels, finely chopped
50g blanched almonds, finely chopped
3 ripe mangoes, to serve
1 tbs caster sugar, extra, to serve
Preparation
Place the boiling water in a small heatproof bowl. Add the saffron threads and set aside for 2 minutes.
Meanwhile, place the evaporated milk and sugar in a medium saucepan. Stir over low heat for 3 minutes or until the sugar dissolves.
Add the saffron and liquid, pistachios and almonds to the milk mixture and stir to combine.
Pour the mixture into six 250ml (1-cup) freezer proof moulds. Place in the freezer for 6 hours or overnight to firm.
Cut the cheeks from the mangoes and use a spoon to scoop out the flesh.
Preheat a chargrill pan on high heat. Place the mango pieces on a large plate and sprinkle with the extra sugar.
Cook the mango in preheated chargrill pan for 2-3 seconds each side or until just warmed through.
Quickly dip the base of each mould in hot water to loosen the kulfi and turn out onto serving plates. Serve with the chargrilled mango.
Saffron Rice Pudding
Ingredients
1 1/2 cup basmati rice, uncooked
8 cup water
1/4 tsp salt
3 cup granulated sugar
1/4 tsp saffron, crushed
1/4 cup butter, unsalted, melted
4 TBS almond slivers
Preparation
Drain washed rice and place in a 5-quart non-stick pot with:8 cup water and 1/4 tsp salt
Bring it to a boil, skimming the white foam from the surface as it forms.
Cover and simmer over medium heat for 30 minutes or until rice is completely soft.
Stir in 3 cup granulated sugar,Cook for 20 more minutes, stirring constantly.
While rice is cooking, combine in a small bowl and reserve 1/4 tsp saffron, crushed2 TBS water, hot
After rice has cooked for 20 mins, add saffron and 1/4 cup butter, unsalted, melted
2 TBS almond slivers, 1 tsp cardamom, ground, 1/4 cup rose water.
Cover and simmer on low heat for 45 minutes, stirring occasionally until mixture has thickened to a pudding.
Pour saffron pudding into a shallow serving dish and garnish with cinnamon,almond,pistachios.
Chill in refrigerator until set, about 2 hours.Serve cold.
CONTACT INFO
391, Zakir Nagar, 3rd Floor, Near State Bank Of
India, Opp. New Friends Colony, New Delhi -
110025.
011-26987380, +91-9811488221, +91-7503228725,
+91-9999301731
marketing@kashmirkesarleader.com,
monika@kashmirkesarleader.com
About Saffron
Follow us on Facebook
---
Copyright © 2015 Kashmir Kesar Leader. All Rights Reserved